Kate Klimo's Dragon Keepers 4: The Dragon in the Volcano
"What do you do when your dragon becomes a 'tween? Worry! And that's exactly what Dragon Keepers Jesse and Daisy do when their dragon, Emmy, outgrows their garage and starts disappearing. Luckily, when she really disappears, she also leaves them a trail of socks, which leads them headlong into a . . . volcano? Yep! And it only gets crazier from there!
"In this fourth title, author Kate Klimo introduces readers to a whole new world—the Fiery Realm, where dragons can be felled by a squirt of water and fire fairies have started mysteriously disappearing. As always, readers get a full dose of action and imagination in this expanding tale of two kids and a dragon, growing up together. A great boy-girl adventure for readers of How to Train Your Dragon!"—Goodreads
"Magic and breath-stopping mystery."—Alan Armstrong, Newbery Honor winner.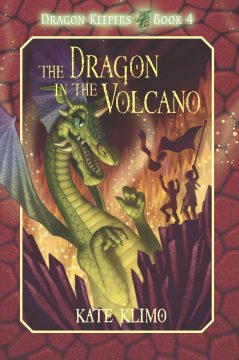 Kate Klimo's The Dragon in the Volcano is available on Amazon 
and wherever books are sold.